MFG Manufacturer Directory
Find the right manufacturer for your custom parts.
71
Our company mainly deals with investment casting, high precision CNC machining works, welding anf fabrication, and assembly. We have service the oil industry business, food business, automobile racing car business and other engineering industries. We provide fast quoations within 24 hours once we get your inquiry. We always see quality and lead-time as our only element to survive. 100% inspcetion, PQC inspection, Weekly PO status Updates to eleminate your concerns. Trust us your parts, you will feel very safe and comfortable. Thanks and look forward to working with you.
1
The company was established in 2000, has accounted for four of 15000 m2, is located in Jiangsu, Zhejiang and Shanghai at the junction of three provinces. This is a company engaged in the OEM production of CNC machining parts, including machining, casting, forging, milling and other CNC turning precise parts. They are widely exported to USA, Canada, Germany, UK, Italy, Australia, Japan, South Korea and others. . "ISO9001" the adoption of private technology enterprises in Jiangsu Province, outstanding supporting enterprises, AAA-credit enterprises, with self-export rights, "and so on all kinds of honor and strength is the affirmation of our work and encouragement. Believe in "quality of the trust, go hand in hand" approach to the operation of domestic and foreign a number of outstanding works of our long-term customer loyalty; "excellence, dedicated service" will work to make our customers more solid and stronger… … Warm welcome to you new and old customers and friends come to visit our company……
15
Foreign Trade Co. of Suzhou New And Hi-Tech Industrial Development Zone is ratified by the Ministry of Foreign Trade and Economic Cooperation, having an independent corporate entity status with the authority to do import and export business. With 19 years' experience in international business, a group of qualified manufacturers and professional engineers have been gathered to provide high-class service for clients all over the world. Business scope: 1. Mechanic products and machinery parts; 2. Light industries; 3. Arts and crafts; We haveshare-holder machining factory / stamping factory and plastic injection factory. annual turnover is US$50million~100million, 60%~70% export, and our company had passed ISO2001:9000. Main market: North American, Western European, Southeast Asia, some our customers like: Baxi Group, Louis Poulsen Light,... Our advantage: -Rreasonable and competitive price; -Good communication with customer; -Good reputation and rich exporting experience; -Good quality and on-time delivery. Give us a chance, we will open a blue sky for you!
Suzhou, ?? (Jiangsu)
20-50
Suzhou RICO Machinery offers a large range of high quality and value priced CNC spare parts & tools for the world marketplace. It is a one-stop market for CNC parts, woodworking machine tools, accessories, all parts are original high quality, no copy here.
We focus on CNC & Woodworking machine trouble-shooting, do our best to provide the premium machine parts and tools fast, keep your machine running and reduce your loss, increase your wealth.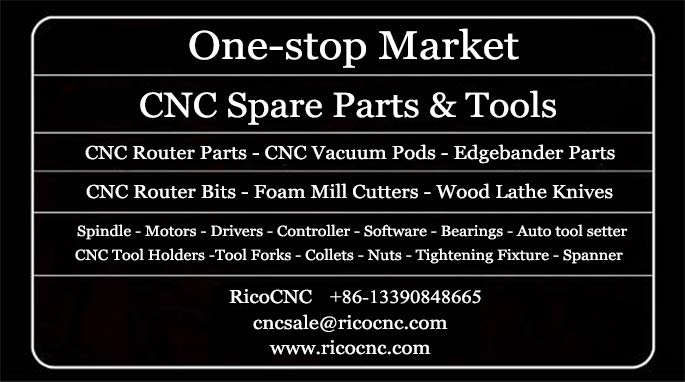 Our products:
• CNC routers parts
• CNC machine tools
• CNC router bits
• CNC wood lathe knives
• CNC foam mill bits, big long mills for woodworking
• CNC tooling systems such as tool changer forks, tool holders, collets, spanner, tool locking device, test bar, etc
• CNC spare parts such as spindles, drivers, motors, controllers, CNC pressure foot, limit switches, water pump, dust shoes, etc
• CNC vacuum suction pods and replacement rubber gasket pads
• Edgebanders accessories such as pressure rollers, chain pads, beam wheels, buffing wheel, etc
• Related products.
Our CNC parts are extensively used in a variety of industries, including cabinet making, furniture production, doors making, wood carving, metal milling, signs making, Balusters wood lathing, 3D molds making, etc.
Also, a range of woodworking machine tool accessories such as pressure rollers, track chain pads for BIESSE SCM IMA HOMAG edgebanders, indexable spiral cutter heads, etc.
Suzhou, ?? (Jiangsu)
Mfgr Rep / Broker / Trading House
10-20
RicoCNC Machinery offers a large range of high quality and value priced CNC machines and CNC spare parts & tools for the world marketplace. It is one-stop market for CNC toolings, accessories, all parts are original high quality, no copy here.
Suzhou Zhongnan Steel Structure Co., Ltd is a professional manufacturer, engaged in development, production,service of container house and prefab kit house,kinds of sandwich panels.
In the wallboard material, we use Class A fireproof sandwich panels, which can be customized according to the country where the user is located. The thickness is 50MM/75MM/100MM, which can be applied to countries with different latitudes.
The company's products are made of high-strength bolts, no need for welding process, environmentally friendly and low-carbon, and can be reused twice or several times. In the products and services we provide, considering social responsibility, low carbonization of the value chain as a whole, and resource efficiency, we not only achieve the company's profit growth, but also steadily promote environmental management and implement PDCA cycle management that reduces environmental impact, comprehensive control of environmental processing capabilities, and respond to social expectations.
Company have passed ISO9001, ISO14001 and CE certificate.
Find Manufacturers With the Capabilities You Need
MFG is Where Manufacturing Gets Done
---
100,000+ Manufacturers

Reviewed and Verified
26 Distinct Marketplaces

Aligned To Your Needs
~1,000,000 RFQs

Manufacturing RFQ Marketplace