MFG Manufacturer Directory
Find the right manufacturer for your custom parts.
Nanjing, 江苏 (Jiangsu)
Manufacturer
20-50
4
  Nanjing Automobile Import and Export Co., Ltd. ("NAIEC") was founded in 1985 and now is a third-layer subsidiary of Shanghai Automotive Industry Corporation ("SAIC"), the largest auto maker in China.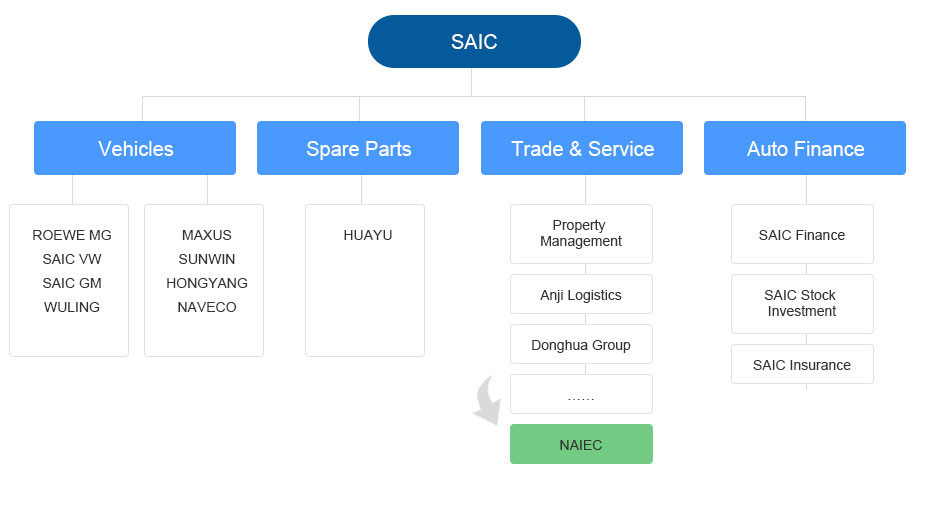 Turnover (2019): USD136 billion
Sales Volume (2019): 7.05 million units
Listed in Fortune 500 from 2004-2019
(No. 39 in 2019)
    In auto components field, NAIEC plays an important role in SAIC MOTOR's globalization strategy, representing SAIC MOTOR's abundant resources, including product R&D, manufacturing capacities, QC etc. The product line covers various types of mechanical and electrical products, which have been supplied to both developed regions like the USA and the EU and developing countries in South America, the Middle East and Africa. In addition, NAIEC is actively exploring after-sales markets for SAIC-made vehicles which are running in more and more overseas markets.
    Import is another pillar of NAIEC's business. Acting as a major importer of SAIC Motor, NAIEC has accomplished a series of key import projects, including tech and equipment import for SAIC-IVECO JV establishment, acquisition and transfer of the assets from MG Rover and manufacturing equipment and components for SAIC's JV brand, like VW, GM, etc.
    Following SAIC's strategy of globalization, NAIEC will keep focusing on development and management of overseas markets and at the same time, explore more import opportunities to enrich SIAC's supplying chains and to benefit domestic customers.
JOC Machinery Co.,Ltd was founded in year 2000, specializing in manufacturing and foreign trade of machinery parts and complete sets of equipment. The ranges of products and services covering construction and building machinery, petroleum machinery, mining equipment, vehicle and motorcycle parts, industrial valves and etc. have been exported to more than forty countries and regions of the world.
In 2001, the Jiangyin factory was founded, whose main operations are investment casting and CNC machining. In 2005, the Yangzhou factory was founded, whose main operations are steel forging, stamping, fabrication, gravity casting of aluminum and galvanizing finish.
Pusheris an innovative, growth oriented, small-sized family-owned enterprise and industry leader in the design, manufacturing and marketing of technically industry systems. As to non-standard parts, we are very professional in machining and casting parts. look forwards to cooperating with you, it is our pleasure.
Nanjing, 江苏 (Jiangsu)
Manufacturer
20-50
InRyant CNC Tech is a national high-tech enterprise dedicated to providing intelligent metalworking machinery for users worldwide solutions, has always focused on intelligent metalworking machinery manufacturing industy, has a professional independent intelligent metalworking machinery core technology research and development team, and uphold:efficient,energy saving,environ mental protection,compatible with the concept of product development.
As a result ,InRyant CNC Tech has become an outstanding intelligent metalworking machinery manufacturer in China.
InRyant CNC Tech products have been covered in many countries and regions around the world, and have wide users in new energy, precision sheet metal, auto parts,communication cabinet, kitchen and bathroom sheet metal, smart home, electronic power and other fields.
InRyant CNC Tech as the leading enterprise of intelligent metalworking machinery in the segment of the sheet metal industry,has been focused on providing key technical support for "Made in China 2025" and future factories. Help enterprises to implement intelligent manufacturing in place. Let intelligent manufacturing change work;Let intelligent manufacturing change life.
Nanjing, 江苏 (Jiangsu)
Manufacturer
10-20
Nanjing Babytop company is focused on precision turbochargers and turbo parts on vehicles in the aftermarket, servicing a wide variety of industries such as Automotive, Marine, Train, Air and Industrial. we supply complete turbo, cartridges, compressor wheels, shaft & wheels,...
Cloudray (Nanjing) Laser Technology Co., Ltd. is a manufacturer based out of Asia that joined MFG in 2019. They specialize in
Sheet Metal
.
Find Manufacturers With the Capabilities You Need
MFG is Where Manufacturing Gets Done
---
100,000+ Manufacturers

Reviewed and Verified
26 Distinct Marketplaces

Aligned To Your Needs
~1,000,000 RFQs

Manufacturing RFQ Marketplace